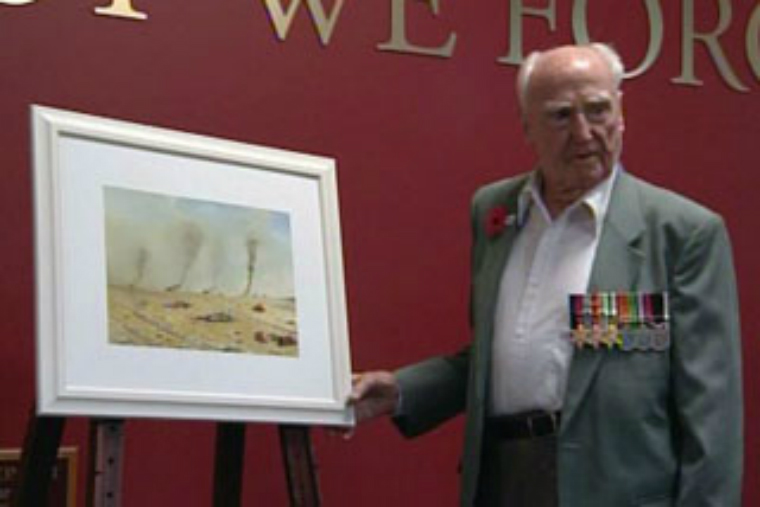 An exhibition of art by relatives of World War II veterans is about to make its way to Monte Cassino in Italy, where Kiwis fought with distinction.
It is hoped the exhibition will strengthen ties between New Zealand and Italy, but it has also sparked a conversation between a veteran and an artist that produced a particularly special work.
Wattie McEwan returned home from the Second World War a decorated hero, but he says one of his biggest regrets is that after surviving a desert battle himself, he stumbled upon the grave of his recently killed brother. Like so many others, he had to leave his loved one behind.
"If they had a choice they would have two requests from us; one is do not forget us, the other would be to take us home," he says.
"The best we can do is retain relations with Italy so that we are welcome to go back and see them."
The 91-year-old shared his story with Auckland painter Merv Appleton. He told the artist he took some consolation in being able to at least tidy up the grave before leaving.
"He was greatly disappointed he wasn't able to get a photo or sketch of it to bring back to the family."
Appleton is one of 41 artists who have a family connection to WWII or the Battle of Cassino. They have created works that will go on display in Cassino's Library.
After completing his works for the exhibition, Appleton decided to create the photo or sketch that McEwan had so wanted to bring home all those years ago.
The war veteran says the picture clearly portrays the silence and isolation of war.
"The feeling that I had so often before and after was the absolute loneliness of those we left buried overseas," McEwan says.
The aim of the Legato exhibition is to promote peace and remember the fallen.
"It is an absolute privilege," says Artist Gail Boyle.
"When I saw the posting on the Art Guild website, I just had an immediate connection with it and knew I had to be a part of it."
The exhibition artworks will head to Cassino next month, but one special piece isn't going anywhere except McEwan's wall.